Thai Massage is an ancient art manipulations based on various techniques of all members of the body. It helps to eliminate fatigue and brings relaxation, relaxation and flexibility with a unique wellness sensation.
 30 min..... 30 €
 60 min..... 60 €
 90 min.... 85 €
120 min.. 115 €
---
Thai massage is a massage balm in Thailand balm that helps to relax muscles, thanks to its active like camphor, mint and natural herbs, known for their benefactors properties.
The balm is applied along the muscle lines with precise gestures and stimulants.
 30 min...... 30 €
 60 min...... 60 €
 90 min..... 85 €
120 min... 115 €
---
Thai original oil massage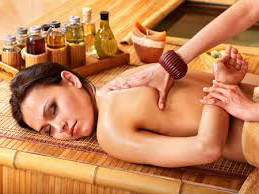 The original oil massage has virtues aromatic massage plus more specific and technical manipulations providing physical and mental relaxation with a greater physical effort.
 30 min.... 30 € 
 60 min.... 60 €
 90 min.... 90 €
120 min. 115 €
---
It is a massage with warm oil containing natural plant extracts authentic perfume Samui in Thailand. The heated oil applied by ample gestures and probing, moisturizes, soothes, reduces fatigue and stress.
30 min....... 30 €
60 min....... 60 €
 90 min....... 90 €
120 min.... 115 €
---
It is a light massage for relaxation probing techniques, brush against and sweeping gestures without pressure.
  30 min..... 30 € 
  60 min..... 60 €
  90 min..... 90 €
120 min... 115 €
---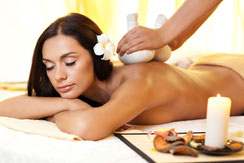 The massage is performed with herbs pouches type of compresses. They are composed of a mixture of several herbs and plants of Thailand, known for their properties benefactors. Steam heated, the dressings are applied throughout the body reducing the swelling and various pains.
 30 min..... 40 €
 60 min..... 70 €
 90 min.. 100 €
120 min.. 135 €
---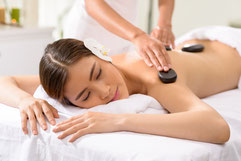 The hot stone massage relieves muscle tension, it relaxes and soothes pain. Volcanic rock by his energy acts on the nervous and muscular lines to restore balance to the body.
 60 min..... 70 €
 90 min.. 100 €
120 min.. 135 €
---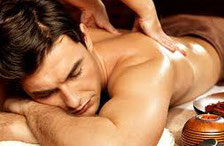 Sport massage is a technique that requires more force and pressure at depth than others. Very popular among sports for preparation of muscles for exercise and after exercise recovery to eliminate toxins, fatigue and muscle regeneration.
 30 min..... 35 €
 60 min.... 65 €
 90 min.... 95 €
120 min. 125 €
---
Back / Shoulder / Head massage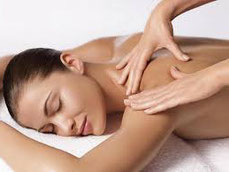 The back massage and neck is particularly suitable after a long day of work, for example at a computer. It reduces stress and muscle tension associated with the uncomfortable posture.
30 min.. 30 €

60 min.. 50 €
---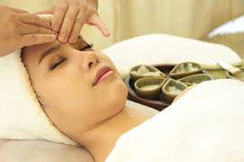 The facial massage helps reduce the marks and signs of fatigue by boosting cell activity by various pressure points and stroking of the skin.
30 min....... 30 €
60 min....... 55 €
---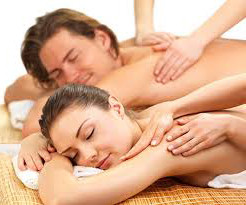 The perfect massage is a mixture of different massages, it is ideal for relaxation and wellbeing!
. Thai massage
. Oil massage
. Facial massage
. Foot reflexology
---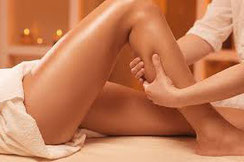 The legs and feet massage is very effective for people suffering from the phenomenon of "heavy legs" and the prolonged work in standing.
30 min....... 30 €

60 min....... 50 €
---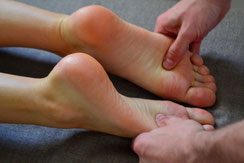 Foot reflexology is made at the soles of the feet, it is composed of dozens of points corresponding to body organs. By pressure on these points known reflexology brings balance and harmony to the whole body.
30 min....... 30 €

60 min....... 50 €
---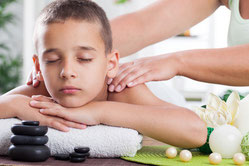 The massage of young children in a number of benefits. Very relaxing it attenuates bad temper and irritability, it also helps in proper digestion. It regulates children's sleep and teaches him to relax. His sleep became deeper and longer.
30 min... 30 €

60 min... 55 €
---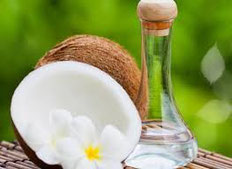 The massage with coconut oil is known for its stimulant properties on the immune system of the body. It also delays the appearance of wrinkles and sagging skin. Coconut oil stimulates cell renewal, reduces blemishes and brown spots. As it is completely natural and is ideal for fragile and sensitive skin.
 30 min..... 30 €
 60 min..... 60 €
 90 min..... 90 €
120 min.. 115 €
---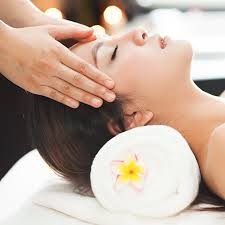 The scalp massage stimulates blood circulation to the head. By various pressure points, it helps in reducing the daily stress, soothes migraine and brings a feeling of well-being and relaxation.
---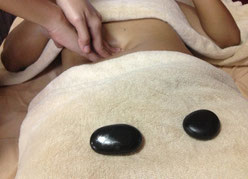 The belly massage helps the proper functioning of the digestive system. For various techniques it also helps in the removal of excess fat and reactive lymph system.
---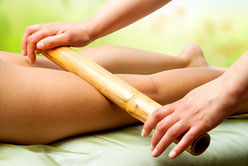 The bamboo poles , also known as " stubble " are light, solid and hollow, which promotes energy transmissions. Different diameters are used according to the areas of the body and the desired effect. It is de-stressing, it eases tension and promotes deep relaxation of the muscles of the back, lower back and neck . It stimulates blood circulation and helps the body get rid of toxins. This massage is also reshaping, it will smooth and refine the silhouette, makes the skin soft and supple, drains the body and helps reduce fat deposits and cellulite.
 60 min... 65 €
 90 min... 95 €
120 min 125 €